Many girls think that brown skin is limited to certain shades of the color palette so that their makeup shines, and the truth is that nothing could be further from the truth.
The tanned complexion looks very beautiful with an immense variety of colors and makeup styles. Although warm tones bring out the radiance of your skin, you will look fantastic with cool tones too.
You just have to learn to apply them properly.
So, do not worry if God has blessed you with this wonderful skin tone or if you have decided to dye your hair dark, today there are makeup trends that you can put into practice yourself and that will undoubtedly make you shine in any time and place.
Surely you may be interested in this topic about Makeup Brushes
So that you understand a little better what this topic is about, we have prepared for you a complete guide with tips, ideas , tricks and advice that will make your make up look perfect, enlivening the features of your face and accentuating the natural tan that characterizes you. .
Let's go there!
Index of contents
Step-by-step makeup routine for brown skin
Putting on makeup correctly can represent a real challenge if you are starting in this versatile world that does nothing more than highlight the physical attributes of every girl.
Well, for the final result to look polished, elegant, stay in place throughout the day and also, your skin remains beautiful and healthy, you must follow a proper cleaning and care routine.
We tell you how step by step:
Step 1: Clean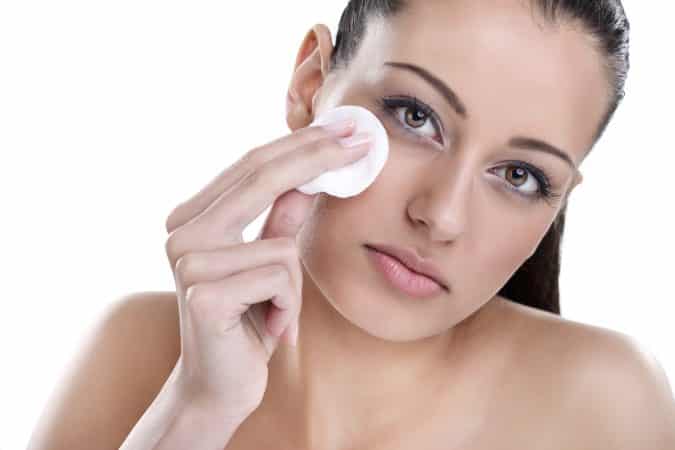 Warm skin tone is more sensitive to oil-based products, in this sense we recommend applying a gel, micellar water, cleansing foam or soap solution with a mild astringent action.
This way you can remove any traces of impurities and dead cells that clog the pores and spoil the makeup finish from the skin of the face and neck.
Step 2: Hydrate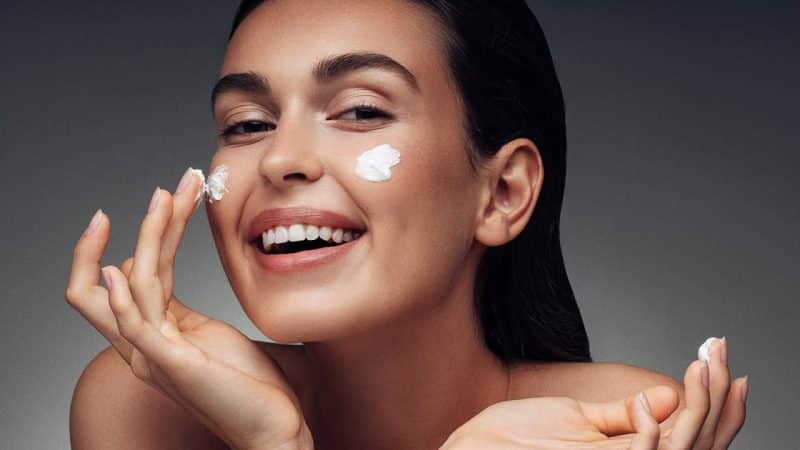 This step is essential, as it will give the skin a silky smooth texture to facilitate the application of the rest of the makeup and will form a protective film that will keep chemicals away from the skin.
Ideally, choose light, fluid, gel-textured moisturizers so they don't create a heavy appearance.
Step 3: Prepare the skin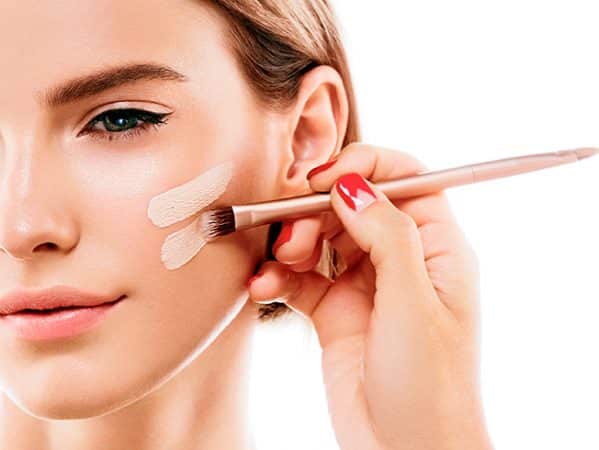 Foundation is key to even out your skin tone.
It is very important to choose a makeup base of the same color as your skin, the best alternatives for brown skin are those with orange pigmentation because they bring luminosity to the face.
To get the right shade, apply a little on your cheek or neck, not on your hand.
If you are a beginner, liquid or mousse foundations applied with a sponge are your ideal option.
Tip: before this step it is advisable to apply a primer or primer. This prepare, unifies and conceals imperfections.
Step 4: correct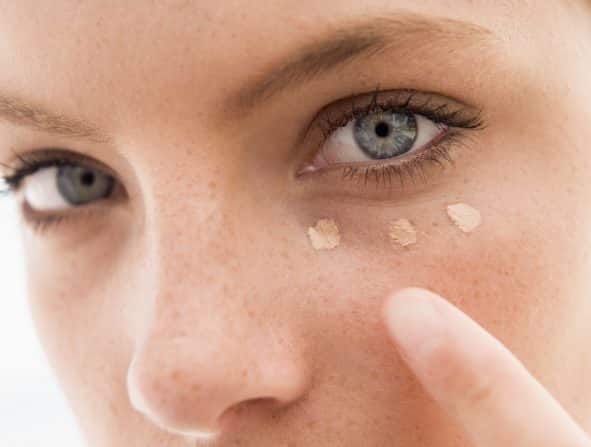 As with the base, you must make sure that the concealer that you will use starts with orange tones, this will make you obtain a finish with a natural tone , without that unpleasant mask effect.
Choose a color one or two times lighter than your skin tone to illuminate your cheekbones, apply it under the eyes, blending gently with a sponge and at the corner of the lips. To start the correctors stick will go very well.
Step 5: Powders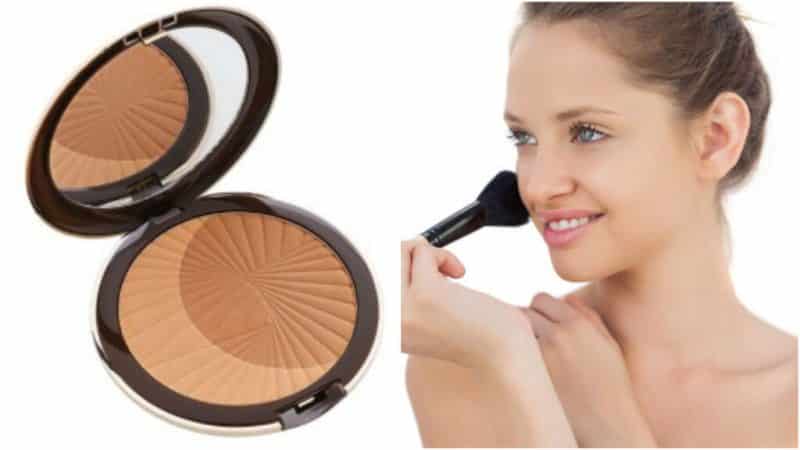 Ideally, use a compact powder to seal in foundation, concealer, and all previously applied products.
You can choose it with soft tanned highlights and dab with a thick brush or sponge all over your face until you get a velvety matte look.
Step 6: light up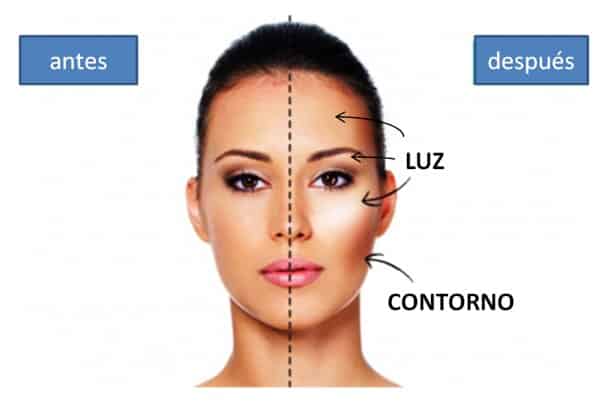 Since brown skin receives bright tones very well, you can play with the effect you want to achieve by creating a delicate point of light on the cheekbones and the lower bone of the eyebrows using satin, matte or orange highlighters.
Once you do this basic makeup routine for girls with brown or dark skin, you can continue applying the eyeshadow of your choice, highlight the eyebrows with shadow or pencil to define and make them more attractive, apply mascara, blush or blush and lipstick according to your outfit and the event you will attend.
Unique makeup tips for warm skin
Although you should start with a makeup routine so that the final finish is like a film, it is also necessary that you know interesting tips to take advantage of your skin color with the products that you usually have at home.
It is not enough to clean, hydrate the face and apply a good makeup base , success will also depend on choosing the perfect eyeshadows , blush, eyeliners and lipsticks for brunette girls, as well as some tips up your sleeve:
Apply powder makeup
As we have told you before, brown skin is generally prone to oily teas, and 65% of women with this type of tone have this type of skin.
If this is your case, a good tip is to lean towards powder makeup bases that are easy to apply, keep excess sebum at bay and create a pleasant mattifying appearance for a clean and perfect face.
If your skin is normal or dry, a liquid or mousse foundation will be ideal.
In addition, when it comes to retouching your look, powder makeup makes the task easier.
You only need to clean your face with a damp washcloth and apply the powder again with the help of a brush or sponge.
Say no to translucent powders
Although these powders are good allies to seal makeup, they are not favorable for brunettes, since when you apply them the effect you will get will be a lighter skin tone than it really is, and it will appear that you powdered your skin with talc.
Instead, you can apply a primer to ensure the durability of the make up and seal it with fixing spray.
Apply only necessary makeup
The brown skin tend to have fewer blemishes and imperfections that white skins, so it is not necessary that you apply thick layers of concealer or foundation on his face.
In fact, you can just cover the small spots and leave the chin and forehead free of products.
Remember that applying a lot of makeup also adds age and does not look flashy.
Variety in eye shadows
To choose from: dark-skinned girls are really privileged, experts on the subject indicate that they have many more alternatives in the color palette to choose from to look beautiful.
For day-to-day we recommend earth tones, coffee, gold, caramel and honey because they create a natural makeup that is suitable for any outfit and event, whether elegant or casual.
For their part, gray, yellow, orange, purple, green, red, plum, blue, black tones are highly favorable for evening makeup.
Intense lipsticks
Lipsticks for brunette girls also offer a wide variety of shades, among which ocher, earth, caramel, burgundy, purple, fuchsia and deep red stand out.
At this point it is important to remember that, although there are many styles in trend , makeup must always have a balance so that it looks harmonious, sophisticated and beautiful.
That is, if you choose to wear your lips in a very vibrant red tone, you should apply earth shadows, along with a light tan touch to illuminate and a blush with pink sparkles.
More blush and less bronzer
The dark complexion has a beautiful natural toasted tone , so it is ideal to put aside the bronzer or put a small amount if you are a fan of this product and give more prominence to the blush.
In this case you have at your disposal the colors peach, coral, copper, garnet and orange. Everything will depend on your tastes and the effect you want to achieve.
Take advantage of makeup trends
Although for years you have carried the belief that only one makeup style suits you, do not be afraid to innovate, dare to try new textures and colors.
You will surely notice that you are able to accentuate your features even more.
Take advantage of that divine skin tone that nature has given you and reinvent yourself throughout the year, because only brunettes can afford that luxury.
Make sure you buy the right products for your skin type
It may sound trite, but this is an essential tip if you really want your makeup to look impressive no matter how simple it is.
Keep in mind that brunettes are the ones who struggle the most to find foundation, concealer and more products according to their skin tone .
The idea is that you choose the ideal product that helps your skin stand out.
These tips will be very useful when it comes to recreating your best looks .
You will see that they will mark a before and after in the way of putting on makeup that will leave you surprised.
Tricks that you should include in your makeup for brunettes
As expected, there is still much to know. If it is interesting to note tips to help you improve the way your makeup for you to look beautiful, even more so knowing the tricks of trend that is well applied in your day to dazzle your skin tan.
Take a look at these fantastic proposals and include your favorites in your next creations:
Retro outline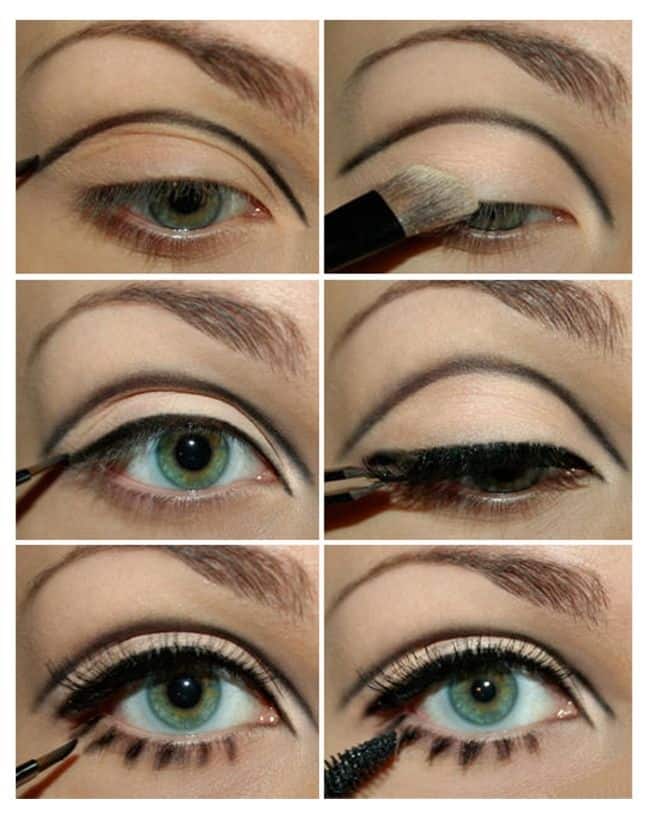 If you are a brunette girl with dark hair, this alternative will be ideal for you.
Since by making the classic thick and dramatic outlines, it will combine perfectly with your hair, making them the protagonists of the look.
It will favor you to wear it to special events where you want to achieve a powerful effect and it will accentuate the look.
Penetrating outline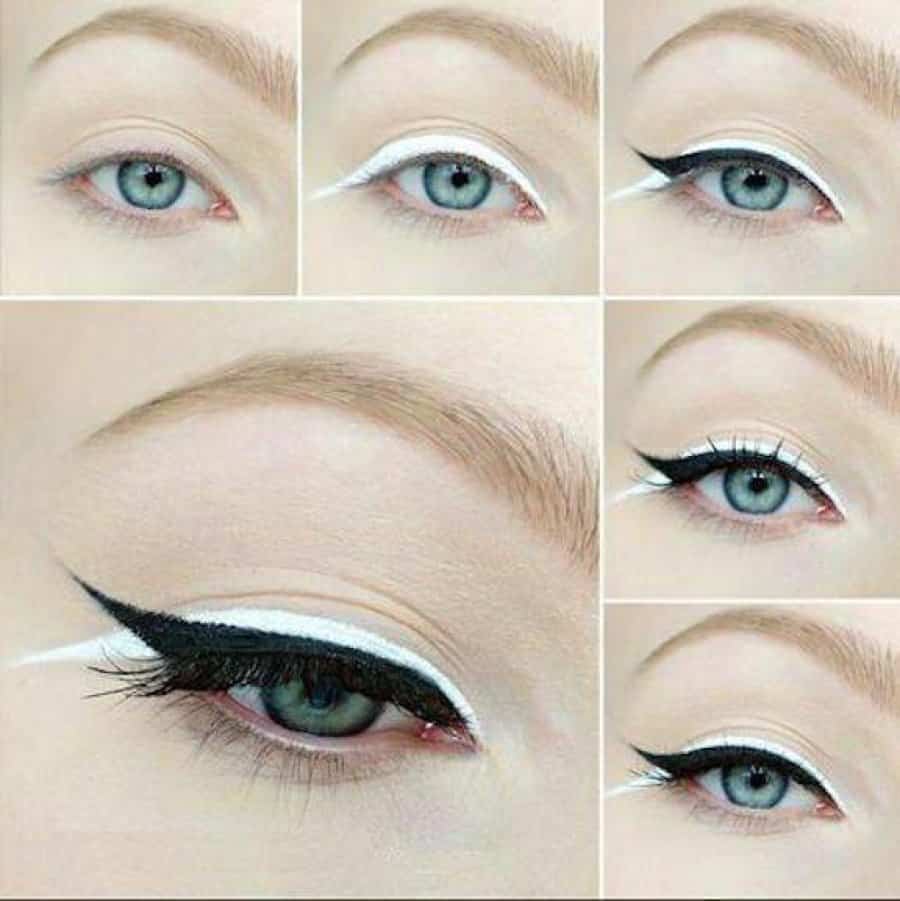 When you don't feel like wearing eyeshadow, you can give your eyes a lot of vigor by making a fairly thick eyeliner that doesn't protrude too much from the eyelid.
The idea is to achieve a mix between a delicate and daring look at the same time.
Use only black or brown pencil or eyeliner to recreate this design.
They are ideal for brunettes.
Subtle outline
This is a style very similar to retro and "cat eyes" but the line is made much finer and more sophisticated.
The traditional thing is to use a black eyeliner for this makeup, but you can also use a blue one if you feel daring and want to achieve a much more daring final look.
Don't forget to illuminate the tear duct with a white or nude pencil.
Kohl
This style consists of outlining the entire contour of the eye with a pencil and the preferred color to do so is coffee, which is why it is a perfect alternative for brunettes.
However, if your eyes are small, we do not recommend it, since they can be seen much smaller than they are.
You can also accompany this makeup with eye shadows colored earth.
Smoked blue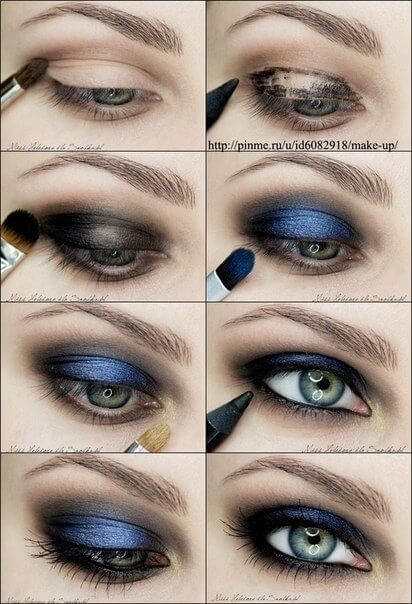 Another classic that will never stop being a trend when it comes to makeup for brunettes.
And it is that cold tones look very good in this skin color, especially if your complexion is not so dark.
It is the perfect option for night events where you want to highlight your look with a traditional and modern touch at the same time.
Choose between matte or deep blue.
Metallic eyeshadow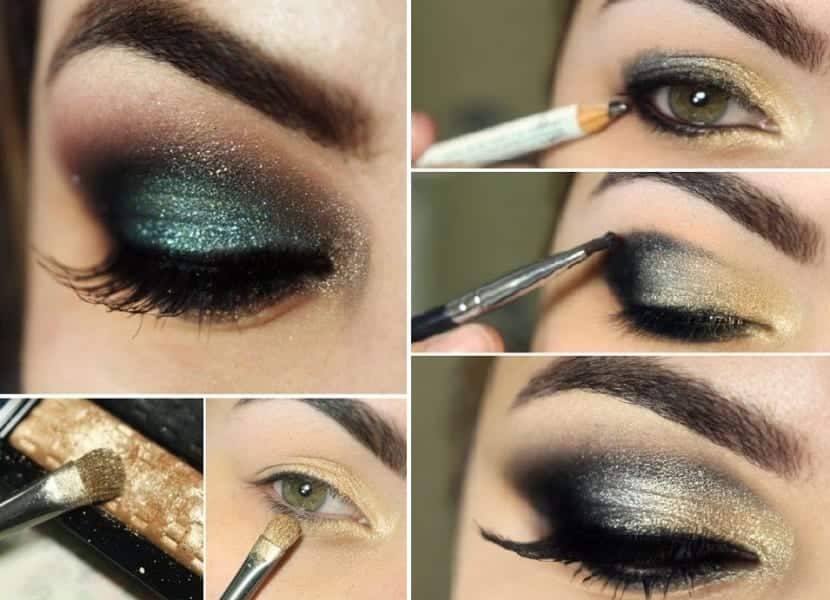 They are tones that are very flattering to women with cinnamon skin and dark hair since the metallic sparkle contrasts great and the effect is very different from what a girl with light hair would get.
If your eyes are blue and your hair is dark brown, try a metallic copper eyeshadow .
You will love the result.
Silver and gold eyeshadow
Makeup trends are not long in coming, and this time it corresponds to the golden and silver sparkles with glitter as eyeshadow, it will give you that glamorous touch you need for a date night where you want to look good without the look on you. take a long time.
Here the saying "less is more" fits very well.
Look baby doll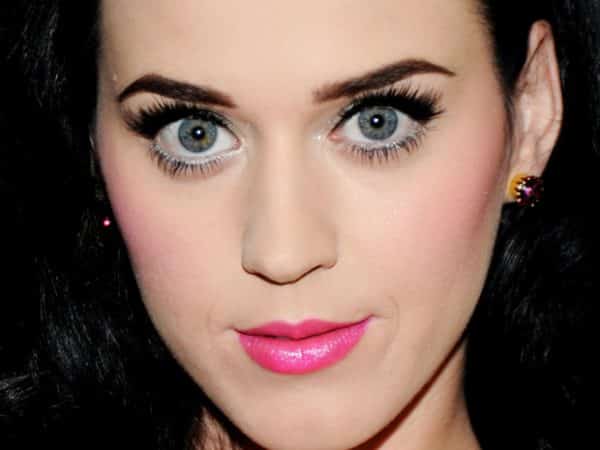 One of the best looks for brunettes and really easy to achieve, you just need to apply a little powder, coral blush and black mascara on the upper and lower lashes on your face, then finish with passion red lips and you are ready to dazzle.
This makeup is perfect for girls who don't want to overload their eyes with shadows.
Orange, pink and nude lipsticks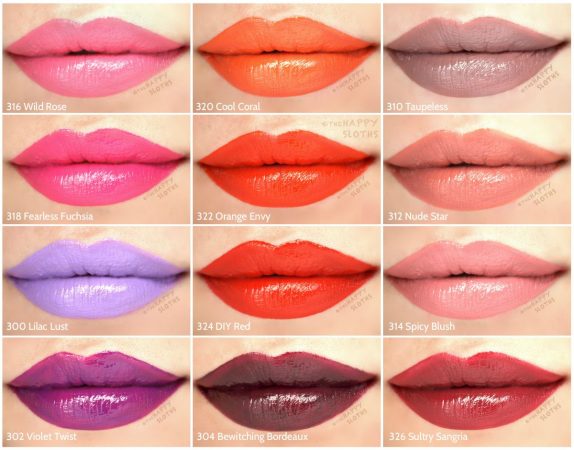 We can not stop talking about these lipsticks that are the latest fashion trend to enliven the makeup of brown skin.
Orange achieves a perfect balance between skin and hair with warm makeup, pink provides a perfect sweet finish for the daily day and nude gives hair all the prominence.
Gloss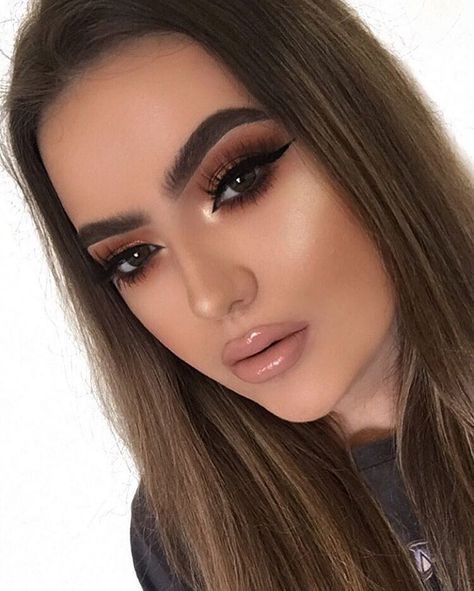 If the matte effect is not your thing and you prefer to shine wherever you are, you can bet on a gloss because it will be great for you.
It is indicated when the eye makeup is very intense and you want to give a more delicate touch to the lips or simply when you want them to look fleshy, hydrated and very appetizing.
These tricks will highlight the beauty of your makeup and will make you always look current.
There is nothing better than making the most of your natural skin tone to achieve professional looks as if you just went to the salon.
Makeup for brunettes at night
Now that you know the routine, tips and tricks so that your brown skin shines with each make up, it is time to get into the subject with original ideas to create the best looks adapted not only to the event you will attend but also to the time of day .
The intensity of the effect to be achieved depends on this point.
Although it is a virtue to be colored throughout the year,
What is the best evening makeup for brunettes?
1) The outline
So that your look looks elegant and deep, do not hesitate to make an eyeliner style very similar to retro, thick and elongated.
Thus, you greatly enhance the sensuality of a very penetrating look and your dark hair will steal all the attention.
2) Eyeshadow
For an evening event, it is recommended that you lean towards cool tones and play with smokey eyes. In this case, dark green, purple or navy blue, gray are guaranteed hits.
If you want to go out of the ordinary, choose shiny and satin shadows in ocher or silver colors and apply them covering the eyelid with that blurred air that characterizes smoky designs. Leave out pastel tones.
3) Mascara:
The most important thing to keep in mind is that in an evening makeup the eyes and lips should steal the look.
Starting from there, use the curling iron to make them take more volume and length, now apply black mascara very carefully on the upper and lower ones and you can outline just the edge of the eyelid well glued to the eyelashes with black shadow.
4) Very full lips
Since they must be the protagonists of the look, it is great to bet on bold and powerful colors.
To ensure that the creamy lipstick lasts much longer, apply a little foundation on your lips and seal it with powder.
Now is the time to fill your lips with shades of red, purple, dark brown, lead gray, plum, burgundy.
Everything is a matter of testing. You can also find these colors in matte lipsticks.
An additional plus is to use a bit of bronzer as a blush and just a touch of highlighter so that the final result does not look too heavy.
Get to work.
Makeup for brunettes by day
Day makeup, no matter how simple it may seem, becomes an art since a washed-out effect must be achieved using the appropriate tones from the color palette so that the result looks delicate and striking.
Luckily, we bring the best ideas to get it done without trying too hard.
You will see that the style is very subtle where the applied products are barely noticeable.
Let's do it!
1) Makeup base
For your makeup to last all day, the ideal is to choose a soft and fluid base with medium-high coverage with the same skin color.
It is important that it does not look dense so that it blends well with your brown skin .
The idea here is to achieve a good base that lasts all day, but without showing that you are wearing makeup.
Make sure to cover the neck and ears very well.
2) Shadows for the day
It is recommended that you lean towards the range of gold, bronze, coffee even pink colors to achieve a very chic finish and nothing overloaded in your eyes.
Another great idea is to choose a shade a little lighter than your eyelid.
Here the application should not be elaborate, you can place the pigments gently with your finger and then blend a little.
3) Eyeliner
Of course, the dramatic black outline is ruled out for this type of makeup, if you like this color you can make a "very fine cat's eye" and little elongated, you can also outline the lower lash line with brown shadow to give a little deep and if you want something even simpler, mark the water line with a peach pencil.
Finish with clear mask.
4) Cream blush
Cream makeup is perfect to achieve a subtle and delicate effect on a clean and velvety face.
Carefully apply a cream blush in shades of fuchsia, peach or if you prefer a shade that matches your lips and blends well with a sponge.
If you want to apply an illuminator that is only a little and in cream or drops.
You can end up with a small amount of powder in the T-zone of your face.
5) Lips outlined
For a full, seductive lip look, line the entire edge with a color that matches your skin tone.
You can do it even a little on top to give them even more volume.
Then you can fill them in with the same pencil and finish with a gloss or go for light brown, pink or fuchsia lips that give a very sweet and elegant look for work or college.
In this daily makeup, a basic recommendation is to apply a small amount of products and increase the coverage if necessary. The monochrome style that consists of doing all the make-up with the same range of colors can also come in handy for a daytime look.
Makeup for light brunettes
It is not surprising that there are different shades of brown skin , so it is essential to make the right makeup according to the level of warmth that characterizes your complexion.
Although the trends in colors and styles are really a great invitation to try new colors, it is best that you take advantage of your naturalness to highlight your features. Here are some ideas to enhance light brown skin:
1) Ideal makeup base
As we have already told you, the base must be exactly the same to your skin tone and this is a fundamental aspect for light brown skin since most of the colors chosen tend to darken the face and ruin the entire final finish.
Once you find your perfect foundation, apply it evenly so that the pigments blend well with your natural skin tone .
2) Subtle shadows
If what you want is to achieve a sensational look for day-to-day life, your light brown skin will do wonders with honey, brown and nude eyeshadows to accentuate the look and make it stand out among all the makeup.
For a special event you can try blue, gold and green tones.
Provides a final finish with abundant mascara.
3) The illuminator can not be missing
You've probably already noticed that the illuminator is busting the web as part of the latest fashion trend.
Well, if your skin is light brown, it is an infallible ally, apply it delicately on the tear ducts, cheekbones, nose, upper lip and chin.
You will be surprised by the twist your makeup will give, you will be a true flash of light wherever you are.
The lipstick for daily makeup can be in light earthy nude tones and pink, for formal events that do not lack intense red or burgundy.
Thus, you will be ready for your light brown skin to be the envy of all girls.
Makeup for dark brunettes
Regardless of your skin tone , makeup always has amazing solutions waiting for you. In the case of dark brown skin, it is believed that they cannot play with an immense variety of tones and that only a non-make up style favors them.
This may be true, as this type of skin looks almost flawless and flawless, but there is a world of possibilities to make it glow:
1) Deep hydration
To begin, it is important to note that this skin requires a lot of hydration, however, it is usually very soft and youthful in appearance, which is why it is a true virtue.
2) Sensual eyes
If you lean towards tones similar to your skin color that are a little more neutral, all the attention will be focused on your lashes and the shape of your eyes that you can accentuate with a black outline.
But the shine is not left out, apply champagne, ocher, blue eyeshadows in a metallic presentation.
3) Illuminator, a basic
It becomes an essential product to highlight the features, the ideal is to choose a powder presentation in pink or cream and apply it blending very well so that it melts with the skin and provides a wonderful finish.
4) Vibrant blush
In dark brown skin, bright colored blushes such as fuchsia or intense coral are perfect, they usually highlight the face without overloading the makeup so you will love the result.
If your skin is a little lighter, choose them in peach or brown tones.
5) Striking lips
Although red in its different ranges looks great on dark skin, it is not the only alternative you have to liven up your makeup.
You can try a creamy pink, purple, plum, roar, fuchsia.
Give your look more dynamism by trying matte and gloss tones, be daring.
That your skin tone is not an excuse to stop looking beautiful, try these makeup trends on dark skin and you will love the result you can achieve.
Makeup for natural brunettes
It is not surprising that many girls want to have a very luminous brown skin , capable of looking flawless and that perfectly conceals the imperfections of the face.
If you have been privileged with this complexion color, you must learn to highlight it completely naturally so that a clean, clean and radiant complexion is noticed. These simple ideas will help inspire you to create your best looks :
1) Base natural
Like day makeup, this style is part of the non-make up trends , so the clearer the skin looks, the better the result will be.
On this occasion, you can leave out the foundation and opt for a bb cream that hydrates and protects the skin while slightly covering imperfections.
You can also apply a little powder to get a smooth and subtle natural tone .
2) Proper concealer
To cover dark circles and fine lines under the eyes, be sure to apply a concealer only 1 or 2 shades lighter than your skin color, as if it is too light you will get the mask look that does not look at all natural.
It is recommended that you apply a concealer stick in a small amount and blend very well with your fingers for a flawless finish.
3) Essential blush
In a natural tone makeup this product is your best ally, you should choose peach, orange and pink tones that are luminous and highlight your warm and tanned skin.
It is not advisable to choose dark or intense colors, since it would lose the naturalness that you want to achieve with this style.
You can apply a very light touch of highlighter and save the bronzer for another time.
4) Pointed eyes
For the shadows, the perfect tones are coffee or earth, gold, light gray or some color very similar to your skin tone that you can later highlight with a delicate and fine black outline and a touch of mascara without making a heavy application. .
The idea is to achieve a natural but very seductive look, so too light colors are discarded.
5) Strong eyebrows
When it comes to natural makeup, eyebrows are a real hit for brunettes.
Delineated, well-drawn, full and very intense eyebrows will give you that chic touch that this make up needs.
To avoid overloading them, fill them in with eyebrow shadow or pencil, remember that the semi-permanent pigment creates a much more dramatic look.
6) Glossy lips
A natural smile should wear nude lipsticks that are the latest trend and brunettes are very flattering, but if you want your lips to look a little more colorful, go for pink, light browns and of course, a very delicate gloss that will give the impression of lips ready to kiss.
Undoubtedly in this way, your best weapon of seduction is sedan and they will look spectacular.
As you can see, getting a look in a natural tone for college, work or just going shopping is quite simple and you can show everyone how beautiful your brown skin looks .
If you thought that your color palette was limited when it came to looking pretty with different styles and outfits, this complete guide is sure to get rid of those thoughts.
Having brown skin is a true attribute that makeup can help you stand out.