If you are looking to learn how to make waves in your hair , then you have reached the most complete guide that you will get on the Internet, where you will find the best photos and videos of hairstyles with loops and mainly learn how to do them step by step .
The healthy envy that women with straight hair have is always about the girls who wear their natural hair with waves or who perform them through different techniques where each wave wick has that addition that favors any style, giving it elegance, freshness, naturalness and that fabulous feminine chic touch.
It also benefits mainly the highlights with degraded dyes or that have a type of dye and coloring that emulates the sun's rays, such as Californian highlights or styles with balayage strands .
That is why I will explain to you so that you learn different ways to make waves in your hair without damaging your hair, but also after you wear those curls, curlers or whatever you want to call them, choose the best type of hairstyle depending on the face style that have.
Since they can go with hairstyles for short hair, long hair, semi-collected, with bows, with different types of pigtails, braids or simply you wear loose waves that are very beautiful but that are strictly maintained.
In this guide I am going to teach you how to make waves without heat so as not to damage the hair as well as applying tweezers, tongs and curlers that are used in beauty salons and hairdressers.
How to Make Waves in Hair?
There are different techniques to make waves in your hair when you do not have natural waves but by following these tricks I assure you that you will be able to have beautiful wavy shapes that will give more personality to your hairstyles.
These tricks can be done at home in a simple way and be able to enjoy an elegant, youthful look and above all that it is a trend because it never goes out of style, because it is always a classic of beauty salons.
The secret of wearing waves in your hair is that they appear as natural as possible for those of us who are not lucky enough to have them and that is achieved by giving a tousled touch with the fingers of the hand after you manage to obtain the amount and thickness of each wave what are you looking for.
Since if you can't bring that look to the naturalness you need, then the production and lack of movement that all hair needs will be very noticeable, regardless of whether it is long, medium or short.
How to make open waves with medium curling iron
Hair stylers with tweezers or also called tweezers are very useful for making hairstyles with waves and that is why I am going to give you an example of how to make one to have waves more naturally and that there are waves open to view.
Fine tweezers are recommended for this type of wave.
What you should do is roll the strand you want to have with wave using the curling iron and with just one turn it will be the perfect process so that it should be beautiful.
Then you have to move your hand quickly in the direction from top to bottom but remember not to reach the roots or the tips.
Mainly when you do this movement you have to do it in the middle part since with this you can achieve that open wave.
Finally, if you want to add texture to your waves, then what you have to do is choose a product that gives volume and texture, shaping it with the fingers of your hand.
Waves in short hair touching the ends
To begin, I will show you that wearing short hair and achieving the movement effect is possible with just applying a small loop at the ends of the highlights.
As a tip I have to emphasize that it is advisable to wear a bob hairstyle so as not to have to wave each strand in its entirety and you will also achieve a greater amount of volume visually.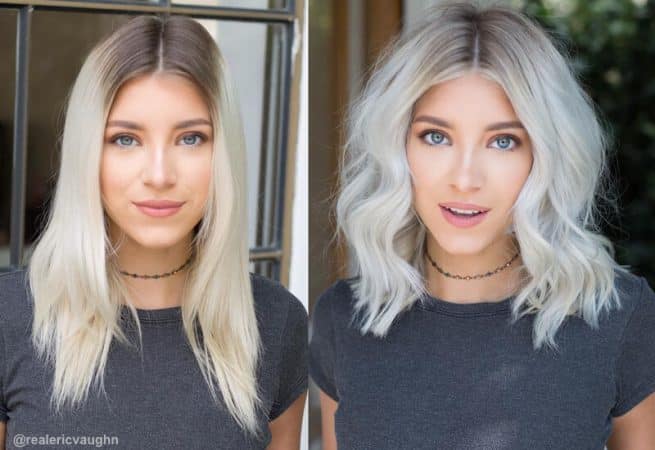 As a first step what you should do is apply a heat protectant to your hair before you have combed your hair with a side parting.
Applying tongs or curling iron that has a medium diameter, you begin to create the waves on the opposite side to the part you made (since you will have more hair to work with), but taking into account that you start with each wick from the middle towards the points.
On the other side, with a hair straightener it will be ideal but you don't have to straighten the entire length but when you reach the end of the ends, turn the iron inwards and with that you will achieve a greater volume and above all give it the accentuated shape you were looking for.
To finish you comb with a fine comb or brush to give it the desired naturalness.
Sienna Miller is a good example of how she wears this type of wave in her blonde hair.
Hair straightener for tousled waves
To perform this technique of beautiful waves, what you have to do first is divide your hair into two strands that allow you to elaborate your look with the iron, taking into account that one part will be the lower part and the other the outer part.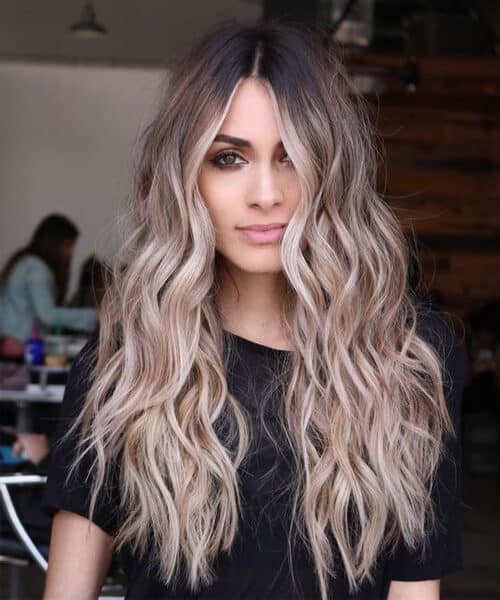 The lock has to be a few centimeters wide to be able to rotate the iron through 360 ° and roll to shape it.
You have to do it in position and inward direction when you start to roll and then slowly move downwards so that the heat works on the wave without hurting or burning the hair.
You have to repeat this process, taking each lock until you finish with all your hair.
In order for the waves created to last over time, you can use a fixing product.
If you are going to apply small strands stuck on your face then it is advisable to take less hair and apply with a hair dryer and a round brush.
Then the best thing is to finish combing with your fingers and fixative to form your hairstyle.
Waves for long hair using the hair straightener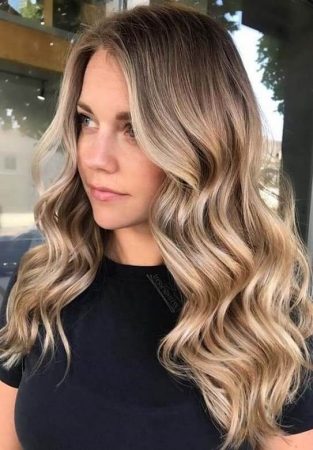 To start, what you have to do is take your hair and divide it into two parts as if you were making two pigtails, so you will have these two sections and you add spray to your entire hair that acts as a heat protector since when applying the iron can damage the hair by its intensity.
Then you have to brush your hair well to distribute the product that you applied.
As this technique to make waves is for long hair, it is best that you go fixing each section and divide it with hair ties or pins depending on what is most comfortable for you. In my case, use hair ties so that when working it is more comfortable.
When starting with the flat iron what I did is take each strand with a medium size where it does not have to be too narrow since they will look very thin or very thick because it will give the feeling of wide.
Start winding each strand as you are used to and slide smoothly but continuously so as not to burn the hair the iron until you reach the ends and as you finish you turn to give it that wavy effect.
You have to consider that since this technique is long hair, what is achieved is a natural wave since it is not very marked as it could be a curl or a loop.
Diffuser and fine tweezers the perfect combo to make waves in short manes
I tried this technique when I had a very nice short hair for a season that I recommend if you are constant in maintaining your hair and you can go to the beauty salon monthly to maintain the cut.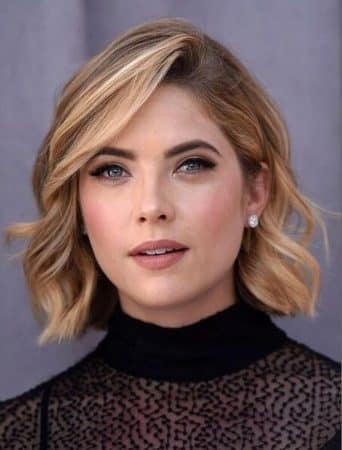 First you have to have damp hair so that it can have a better effect and then you can start applying the detangling cream for styling from the middle of each strand you take to the ends and then a spray that has the effect of waves. (also called surf waves in beauty products)
Once you have applied the products you have to divide into fine strands and you will go rolling with the fingers of your hand.
To dry it is best to dry naturally but since you don't have much time you can do it with the dryer that has the diffuser applied to give it the expected effect.
For this step you have to have dry hair without moisture, so the idea is to add volume and texture with a product that you see in stores, if instead you want it to look natural you can not apply this step and leave it until here.
To give it the appearance of a beauty salon and make it look more professional then with the fine tweezers you are going to roll each strand and let it act for five seconds, no more than that to see how the wave is applied.
The best thing is to always give the direction to the locks in a different way so that the naturalness you are looking for can be more real when it comes to seeing the finished hairstyle and that that messy, natural and spontaneous effect is present.
Consider that the forehead wicks always have to roll outwards which would be in the opposite direction to your face, so with a little help from your fingers and if you want to add a texturizing spray it will make those waves last longer. .
Achieve undone waves with a hair straightener
Without a doubt, this technique to make waves is the best to obtain natural finishes, but you have to consider these steps to be able to do them.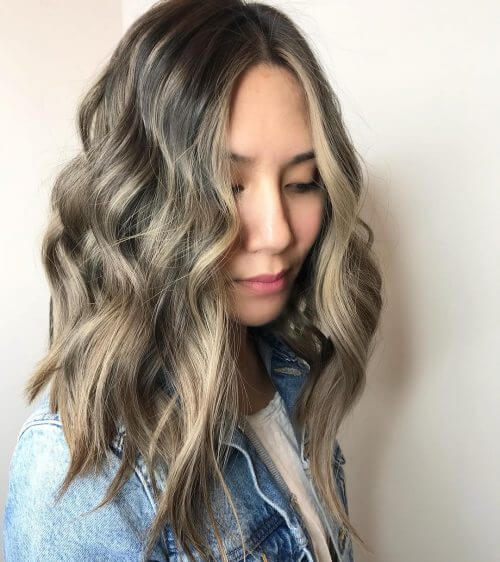 Start by applying a spray product to style, detangle and to create the famous surf waves that are in fashion, always having wet hair first.
With your hair dryer what you have to do is to go drying from the ends to the roots without aiming directly so as not to damage the scalp and then divide different wicks into sections.
Then apply hair texturizer to each of them and you start to wavy with the help of the iron that previously has to be hot.
When applying the iron you do not have to turn as I mentioned in other cases, but the idea to make it more natural is to move first to the inside of the hair, then move outwards and continue the process.
With this you are going to get a kind of zig zag and that the waves are natural but at the same time soft in their definition.
To improve this type of waves, it is best to take with a tweezers that is wide in thickness and you can go over mainly the strands that appear on your face stuck, then if you want it randomly you apply it all around your hair where you see uncontrollable locks.
Wide tweezers to make perfect waves
Once you have your hair washed you have to dry with a hair dryer and then apply a product that is to give volume to your hair.
The next step will be to comb using the hair dryer but also a round comb which will help to achieve a greater sensation of hair in the hairstyle.
Once you do, begin to roll each strand of your hair with a tweezers that have a diameter of medium thickness.
With texturizing spray you have to comb with your fingers and then let the hair set in the desired hairstyle.
Waves in the Hair with an Iron, Tweezers or Curling Iron?
Without a doubt, either of these two systems is the fastest you can choose to make waves in your hair, what mainly changes is that the curling iron is cheaper than buying a hair straightener.
And also a great advantage that both have is that it allows you to better control the type of wave you want since you can control the heat you apply to it.
It is always advisable to use a special product that allows you to protect from the intense heat that radiates to your hair where you apply it.
As a main premise you always have to consider that if you take a strand for both an iron and a curling iron that is thick then the wave will be much more open.
But one of the questions that you will surely continue to ask yourself is, what do I curl my hair with? a curling iron or a curling iron and there I am going to clear the doubt.
The molders that exist today can be with or without clamps, which are called tweezers, they can be conical or oval.
On the other hand, you have automatic hair curlers where the current ones have evolved a lot in regards to their design and material since it varies according to what you want to implement in your beauty look.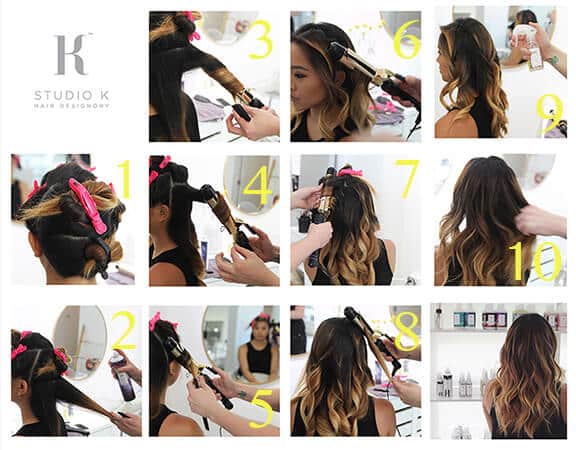 Types of Hair Curlers
The first thing you have to define is the type of wave or curl that you want to obtain and also the type of hair you have since depending on these two fundamental factors, you will have to choose what type of curling iron you should implement.
This is because there are a large number of molders with different characteristics (with clamp and without clamp) and each one has an advantage over another.
Type of Curl that is desired:
For small curls you have to use a small barrel smaller than 2.5 centimeters.
For waves that are loose, the largest barrel that exceeds 2.5 centimeters is recommended.
Finally, for the soft curls that are not so marked, a medium barrel has to be implemented, which is 2.5 centimeters.
Clip-on Hair Stylers
Curling irons that have clamps are the most classic that are used since they hold the strands while they heat up to give your hair waves.
And it has a great highlight that you do not touch the heat emitted by the barrel with your fingers, so if you do not have experience and want to start or for comfort they are the best choice to use on your hair compared to manual curlers.
To stand out as an advantage is that it has a great variety of sizes that can be achieved with respect to the barrel which can make waves of different dimensions for the hairstyle you need.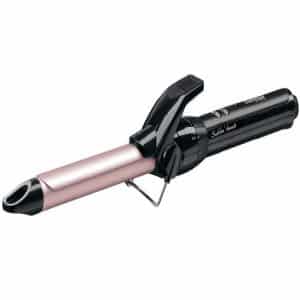 In addition to being easy to use, it is an advantage that will always be present since with the clamp the wick that you want to wave or curl is kept fixed.
Once the styler is heated, you have to slowly and gently release the hair with your thumb.
The only thing that I personally do not like so much that when using a hair clip it leaves a fold many times if you do not heat the right time and you go beyond the estimated seconds.
Clipless Hair Stylers
For this type of curling iron you have to have previous experience which I do not recommend if you have never handled a hair styler since it will be a bit complicated and you can burn your fingers more than once.
This is because you have to wind the strand you want to manually wave the barrel.
For this reason, this type of curling iron almost always brings thermal gloves to protect you and not burn you.
Something very positive is that unlike the one with tweezers with these you can get closer to the root of your hair so you can achieve greater volume and that for your hairstyle is very favorable in most of the time.
Also as another advantage I can emphasize that the folds are not something you can worry about since not using tweezers is a great benefit.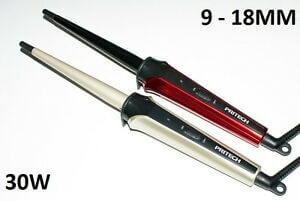 What is the best material of the barrel of Hair Curlers?
The barrel is part of the styling tool, which can vary according to its shape, which holds part of the selected lock of hair, and then radiates heat onto the hair.
This barrel can be made of ceramic, titanium or tourmaline.
Ceramic Hair Curler
Being a tool that is not made of metal, it has the advantage that it can distribute all the heat in a uniform way, which the property of having ceramic in its assembly is beneficial.
Therefore, your hair is damaged very little since it has a very low coefficient of friction and ceramic itself is a very durable material, transmitting negative ions, which favors the static electricity that could be produced in your hair.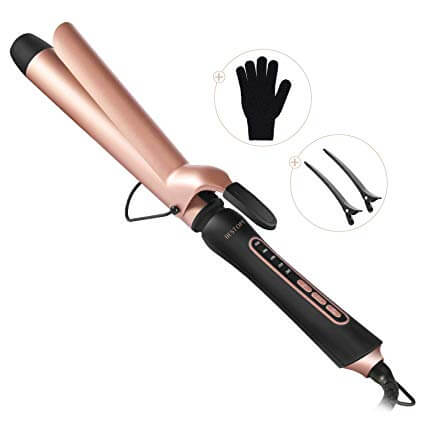 Titanium Hair Curler
These types of curlers are better than ceramic curlers but more expensive to acquire.
In addition, the titanium has the advantage that they heat up faster than the previous ones and run with the plus of being more resistant but always consider that they are more expensive but unlike you will have a curling iron that will last you much more years.
That's why everything depends on the use you give it and if it really will be something essential in your weekly hairstyle then I would lean towards this type of curling iron.
In the panel that has the curler, being made of titanium material, the metal will be able to distribute all the necessary heat in an even and total way.
Something important is that it consumes less energy, which is why the consumption of electricity will be less, since titanium itself maintains heat for longer.
And as a final detail, being lighter due to its titanium material, this shaper allows you to make the waves you want in a lighter way and with greater ease for movement.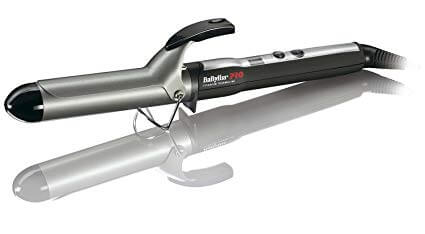 Tourmaline Hair Curler
Here we come to the most expensive hair stylers for their material, which in itself is already expensive for anyone's pocket but has its advantages for our waves.
Undoubtedly the best hair curlers are those made of tourmaline because this material is a mineral that is not metallic and that when it gets high heat temperatures what it does is emit negative ions which is what is needed to be able to have a charge reduction electrostatic in your hair.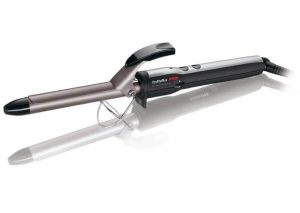 So in less time you get the waves and loops you want quickly, which takes much longer with both titanium and ceramic ones.
By reducing the use you will also achieve less hair frizz and the hair will look healthier but also obtain a natural shine difficult to achieve otherwise.
Curling Temperature Regulator
From 185 ºC is the correct temperature to be able to shape the hair using curlers, tongs, tweezers or irons.
That is why through the heat radiated by these tools that are used to shape your hair, the proteins that are part of your hair can maintain their structure due to the internal component they carry, which is called disulfide.
But when heat is applied to these unions, what happens is that it weakens, which is why it is the moment that it can be given the shape you are looking for for your look.
The same applies to making waves, curls or simply straightening the hair.
So always remember that the hair has internally disulfide , when applying heat it weakens it and you can shape the hair to your liking.
Type of Wave or Curl of hair
There are two important factors to consider before choosing which type of curling iron is the most suitable for your hair, on the one hand the length of hair you have and on the other you have to know what type of wave you want for your hairstyle.
For medium to long hair it is recommended to use long waves (32mm or 1 1/4 ″ barrel) or wide wave shapes (38mm or 1 1/2 ″ barrel).
For medium hair length you have to calculate to get a classic wave (25mm or 1 ″ barrel).
If you have medium to short length hair then you should opt for light curls (19mm or 3/4 ″ barrel) or closed curls (10mm or 3/8 ″ barrel) which are generally more elastic.
Types of Barrel shapes
There are different types of waves and depending on the one you want to achieve, the type of adapter and diameter you should use will influence.
Straight Barrel : this shape is the classic one of origin with which the loops began to be made and allows the undulation of your locks in a unified way.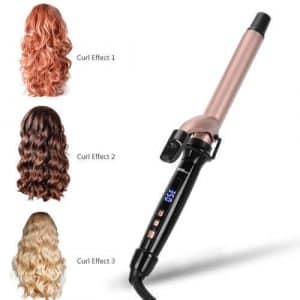 Conical Barrel : if you want to make wide waves, this is the diameter you need, it is to make curls precisely, having the advantage of getting closer to the root and that the wave that is achieved is widening as it descends to the tips.
Barrel of Pearls: The good thing about the shape of the ball-shaped barrel is that you can get a natural effect in waves for casual hairstyles.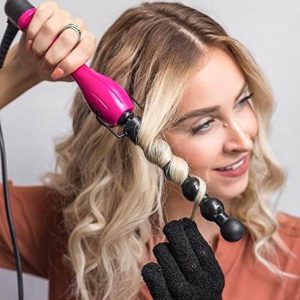 Spiral Barrel : they are to get perfect waves quickly and are useful if you like more structured hairstyles.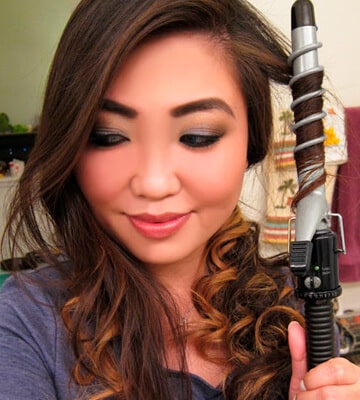 Double or triple barrel : they are ideal for getting wide waves that cover a lot of space within long hair, on the contrary if you need defined curls in your look.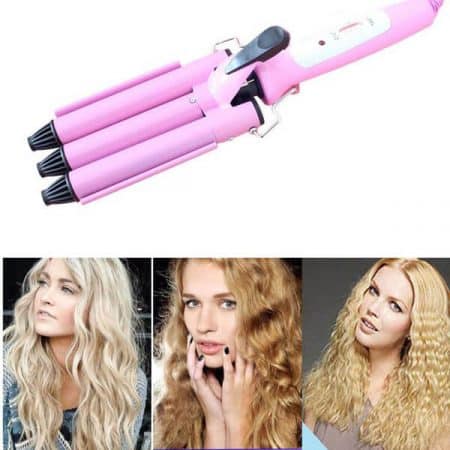 How to make waves in your hair without heat
There are different types of ways to make waves in your hair without using the heat of the stylers that can be used in a beauty salon, hairdresser or simply at home but the effects will always be less durable.
Using this type of techniques and tips that I will leave you next, you will obtain incredible natural waves without having to use the heat of a curling iron or hair straightener.
Make Waves in Hair with Stockings
Now I'm going to show you an extravagant way to do the waves with stockings which seems somewhat incredible but is a technique that some models use when they have little time and few resources.
Taking your hair, you divide it into two sections so that you can add an average for each section of the hair that you separated.
To continue you have to make two tightly rolled buns, one next to the other and with the same dryer you apply heat to fix it.
As a secret of this technique, you have to consider making this bun as high as possible since the higher it is, the earlier the waves begin in your hair which will give it more shape.
Something that you have to consider is better to do this type of technique with wet hair and leave it as long as possible since the wavy shape will remain much longer as you can also apply a fixing spray to finish.
Make Waves in the Hair with the fingers of the hand
This is a technique that does not work on any type of hair, since women who have naturally straight hair is more difficult to work but you can try and then tell me if it worked for you.
There are different ways, some of you prefer to use rollers or curlers but in this case you will learn in a homemade way that you can do at any time of the day.
With wet hair, you have to roll strands with your own fingers, which you have to previously divide from your hair and fix with bobby pins.
Then you let the hours go by so that that wave is better and more marked, the longer you leave it, the more marked it will be, but consider that the forks also.
That is why the best thing to do so that the pins or hairpin that you put in each strand are not marked, it is best to use hairdressing tweezers.
Consider that if the curlers are wide when you hold them then the waves will be more open, on the other hand if when holding what you rolled is narrower the curlers obtained will be more closed.
How to make hair waves with braids
Making braids is very simple when you practice them and you mainly learn a lot to do them when you have girls since it is a classic hairstyle for your daughters at school.
But if you want to have waves in a natural way you can implement this type of braiding to add a little body and movement to your hair.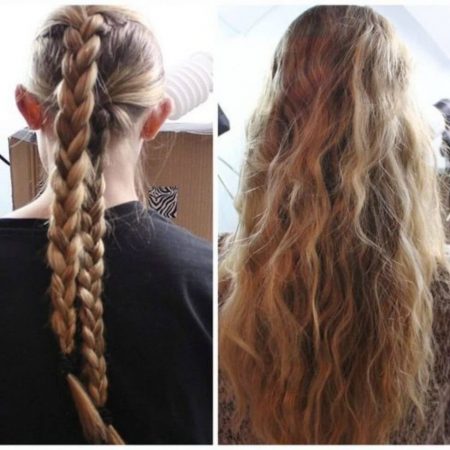 First you have to make a traditional braid that can be the famous French braid, this should be applied with damp hair after washing your hair.
Then you have to take into account that the thickness of the braiding in each strand that you make will give the shape to the wave later as well as if this braid is tight or tight as well as less tight.
If you are looking to have many small waves on the head then the most recommended is to distribute different braids throughout the hair, this is recommended if you have hair with abundant hair.
In the opposite case that you have little hair then it is best to just make a braid and then from there the waves will be generated.
Once you let it dry, it can be applied throughout the day while you go about your normal life or at night before going to bed, you undo the braid and you will wear beautiful waves and then make the hairstyle that you like the most.
As a trick to ensure that the waves are perfect and do not fall apart, it is best with a hair straightener to go through each braid so that heat fixes the waves.
How to make waves with a scarf
I liked this technique very much because it is simple to perform and it is very beautiful since you will be able to make waves without heat and inspired by Victoria's Secret models.
The good thing about this technique is that you don't have to use hair straighteners or tweezers.
Start by moistening the hair so that it takes more shape when making the waves.
Then apply a little " serum " to the ends and middle of each mochen to achieve more shine and that it is softer to the touch.
The next step is to make a ponytail at the height you want but consider that if you make it higher you can obtain a greater volume. To tie it you can use an elastic hair band so that the hair is not marked.
Now with a handkerchief, scarf or pashmina, you go through the ponytail that you made on the gummi and join the ends of the handkerchief to center and begin to slide the handkerchief over itself and then slide to the ends.
Once you get to the bottom of the strands, which would be the ends, with the same movement you roll the hair and once you get to the top of the head you do a couple of turns so that it is well attached and the wave is more marked.
Finally, you tie a couple of knots on the scarf that you put on so that it is fixed and then let it rest overnight.
The next day you have to undo the roll you made and shape it with your own fingers and hands.
To finish, I recommend applying serum again to give that shine and movement to the waves that is needed for any hairstyle.
How to Make Bun Filled Waves
The filling that is used for the bun in the hair is the donut or bump and this is another option that is used to make the amount of waves you want without damaging the hair.
It is recommended that the hair is damp but not very wet since the idea is that it dry as soon as possible.
If you are not interested in using heat then to speed up the process to make it faster with the hair dryer you can blow hot air and then cold air to fix the waves made.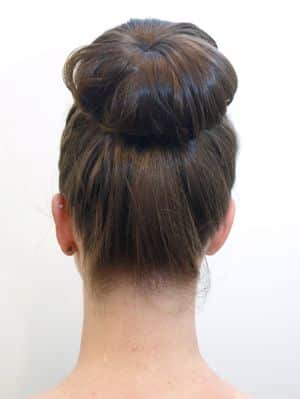 With a filling to make hair bows like a donut, you roll all your hair into a ponytail from the end to the center.
You start to open the hair with your hands covering the donut and to hold you add open hairpins.
Now you have to wait a few hours, until your hair feels that it is completely dry.
So you start to disassemble the bun and remove the filling releasing the loose hair, obtaining large and discarded waves.
To get the same effect but without using the fill then you can do it getting the same effect for that you have to:
Make a ponytail and then you take wet strands by rolling them up and holding them with flat pins
You put the tips inside each winding that you make and always try that each wick you take is sufficiently moist.
Once it is dry, remove all the hair pins and the rubber with which you made the ponytail.
How to make bun waves (ballerina bun)
I really like this technique for its simplicity to do quickly and easily at home when you want to have beautiful waves and give your hair more movement.
I recommend doing this bun the day after you shower and with this you will get soft natural waves.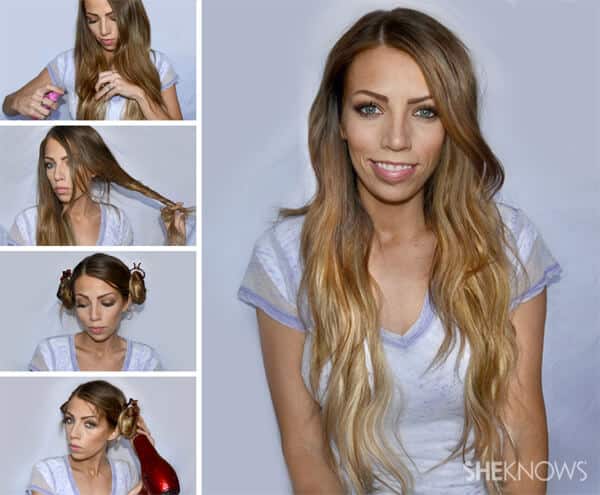 Brush the hair well to detangle and then use styling cream accompanied by a spray that pulls water to moisten and then dries with the bun done and when released, it achieves the expected waves.
You have to make a super high ponytail starting from the middle of the head.
Then twist all your hair as if you were making a normal bun and simply then fix it with a rubber band or a small hair tie.
Begin to slowly pull and tug on the sides of the bun so that it grows larger for a more beautiful shape.
Once you wear the bun all day then it is time to release your hair and achieve those expected waves that you can accommodate with the fingers of your hand.
How to make waves in your hair with curlers
Curlers are like rollers but longer since more hair enters to make loops or curlers and the good thing is that they can be bent to adapt what you need.
With clean but damp hair, you have to start doing this tutorial where you must make a partition in the middle of your hair and then take one of those two strands and divide it in two, in the middle where you have your ear.
Now you have to apply a curler by rolling from the tip to the back until it reaches the root of the hair.
When you arrive, what you should do is bend the curlers tightening it to fix it, something you have to consider is that if you want the wave to be more marked, you should take less hair for the lock and if you want the wave to be less marked, add more amount of hair for each curlers.
Continue doing this process for each strand that you divided throughout the rest of your hair.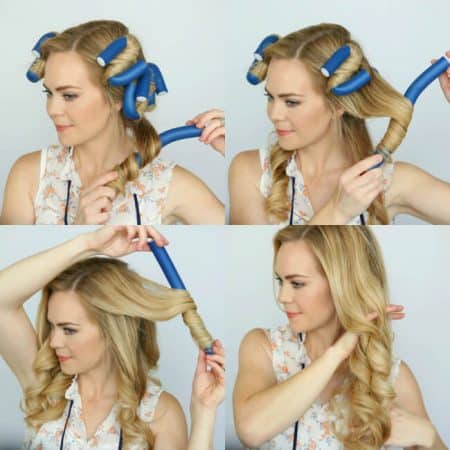 You should leave these curlers on for about an hour and it will be enough for the hair to dry and if you are in a hurry and need to have fast waves then you can use the hair dryer giving cold air to achieve the result quickly.
I hope that all this information helps you to choose your best option for your hairstyle and you can start making your hair waves.
If you want to share these tricks with your friends then I invite you to share on your social networks such as facebook, twitter or whatever you use, until the next beauty and hairstyles article.