Balayage highlights have positioned themselves as one of the most demanded styles that are sweeping away hair beauty trends today. There are those who bet on them to wear a beach outfit in summer, but the truth is that they are so bold that they can make you look beautiful all year long.
It is a technique of French origin that brings great luminosity to the hair and frames the face in a very delicate way, with fine highlights that are generally made in lighter shades than those that you wear at the root of the hair.
It is the best alternative to achieve a very natural and sexy look at the same time.
As is to be expected, when a new fashion breaks the trend, celebrities are the first to get caught up in it.
An example is the spectacular hair of Gina Rodríguez, Jennifer López, Sarah Jessica Parker and many other celebrities who wear the latest style.
In this post I will tell you everything you need to know about balayage and how to wear it so that you do not postpone that change that you have always wanted to give to your hair.
Index of contents
What are balayage highlights?
It is a sweeping-style coloring technique in which the hair is dyed with the help of a freehand brush, so it does not require the use of aluminum foil.
The process tends to take longer than usual, since each strand must be painted separately, achieving an unequaled shine, very similar to the reflection of sunlight on the hair.
Although it is a highly sought after technique, the final result is completely original and genuine, you will never have a finish the same as another, this is one of the characteristics it has positioned.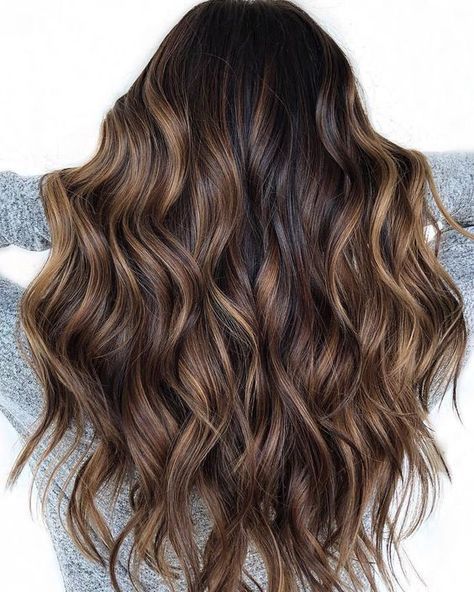 This is because the effect is achieved depending on the type and amount of hair.
If your hair is abundant, it will be necessary to distribute a greater number of fine wicks throughout the hair and in different areas.
On the other hand, if you have little or very fine hair, they will need a much more subtle work.
In general, this style is great for girls who want to change the appearance of their hair with delicate nuances, highlighting the features of the face and without resorting to too intense blondes.
The finish will always be with a touch of natural flare.
Advantages of wearing balayage highlights
Not for nothing have these highlights been placed in the first places on Instagram and the rest of social networks, and it is that they achieve a phenomenal aesthetic result, very rejuvenating, which highlights not only your face but also the color of your eyes.
But this is not all that balayage can do for you, this is a look with incredible advantages that will facilitate your beauty routine while making you look radiant and it only has one drawback: the stylist who performs them must have total mastery of the technique to achieve a truly perfect finish.
Covering this condition, this hair style gives you all these interesting benefits:
1) You can transform your traditional highlights into a cute balayage
If you have already let yourself be enveloped by the beauty that celebrities show off wearing this beautiful gradient and you regret wearing regular highlights, don't worry! It is possible to make a simple transition to this style.
You only need to grow the root of the hair to the height where you want the sweep to begin and then emphasize the finish with this technique.
You can also apply a base of a dark color or similar to your natural tone before doing the balayage or apply a blending in your hair to reduce the root by at least half a tone, giving way to your new look and fading the zebra look in your hair.
2) They create a natural style even on dark hair
Contrary to what many people think, the balayage technique not only looks striking on light bases, dark hair can also benefit from the luminous effect it brings.
Don't be afraid of color change.
Experts indicate that the correct way to carry out this sweep on dark bases is to blur the color very well and subtly at the root, achieving only half a tone lighter and little by little raising the intensity of the color until reaching the tips with three lighter shades for a subdued finish or 5 shades lighter for a more pronounced look.
3) You won't need to dye all your hair
If you have worn highlights before made with aluminum foil, you will know that after making several touch-ups, the hair is almost completely dyed, with which an unnatural appearance is achieved and the hair strand is much more mistreated. Well, with balayage you will say goodbye to these problems.
This sweeping style allows you to say how, where and how often you want to lighten your hair, giving it a totally natural look that is maintained over time and without the need for the hair to suffer from excessive application of chemicals.
4) No frequent touch-ups
One of the most outstanding advantages of this coloring technique is that it avoids frequent visits to the hairdresser since it only blurs the color at the root instead of changing it completely and accentuating it.
The minimum time to retouch the highlights is usually every 3 months, but if you are not addicted to the salon and want to prolong the natural look and care of your hair, you can do touch-ups 2 times a year. A good recommendation is to apply a solar smudger to the root to lower it half a tone naturally every 2 months. Your color will look much cooler!
5) End the zebra effect
When traditional highlights are made and they are not given a delicate style, it ends up achieving a zebra effect in which an inconspicuous contrast between light and dark tones is appreciated, and the highlights remain in the form of very macadamized stripes.
The balayage is only worked on specific points of the hair, in a subtle and superficial way, thus preventing the hair from staining and creating that striking light effect so characteristic of this style.
6) Highlights will look like part of your natural tone
With this freehand technique, what is achieved is that the highlights blend with the natural color of the hair, making it appear that they are reflections typical of the hair. But it must be done correctly to achieve a desired effect.
The idea of ​​the gradient and the most beautiful effect of the technique is that it achieves a charming blur in which it is not distinguished where the highlights begin and where they end.
7) You will have shinier hair
The wicks made with aluminum foil generate a more opaque finish and the color oxidizes, which means that the hair ends up looking much less healthy. With the balayage technique, the chosen shade or color combination does not oxidize and the result is luminous hair that remains over time.
8) They provide movement and volume to the mane
Ideal in case you have fine hair with little density. This is achieved because with these wicks you will achieve a blurred effect of up to 3 different tones in your hair, which gives it more texture, depth, volume and movement due to the unique effect of light and dark combined.
Trends in balagaye coloring that will catch you
Regardless of the season of the year, you can always see that the balayage technique is reinvented offering new styles that enchant the most daring girls who cannot resist this bath of light.
This time we want to show you the new application trends to get a beautiful hair that is completely out of the ordinary.
Check out!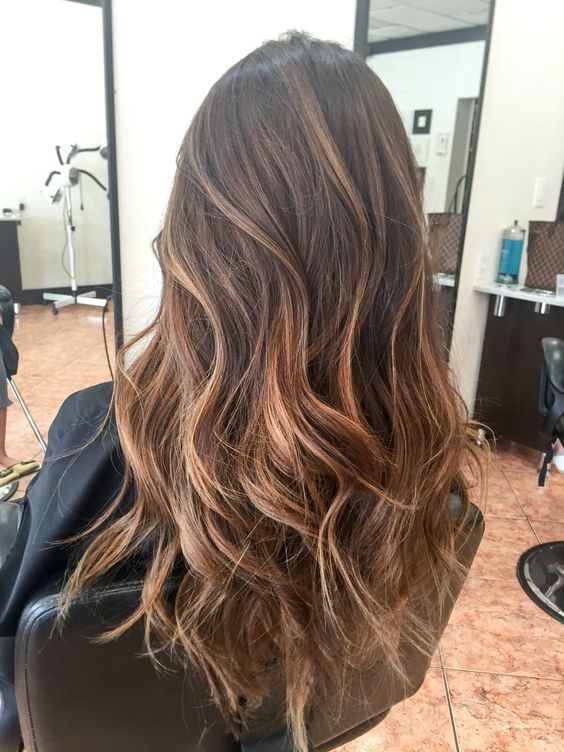 Reverse balayage: it is a super ingenious technique that is recommended for girls with a light natural base tone, since in this case the gradient is made with lighter tones from the roots and darker towards the ends of the hair. The objective of coloring is always the same, to bring flashes of light to the face and show shiny hair with depth and volume.
Tiger Eye: it is also applied under the sweeping technique and what is sought is that the hair imitates the colors of this precious stone. Here different shades are mixed to achieve the desired effect. The chosen ones are usually blonde and brown or chocolate and caramel to form the reflections that the gem gives off. Hair will look amazing in texture. Ask your stylist about this new trend.
Pastelage: if you are one of the most daring girls, this style is for you, it is about achieving the balayage effect with pastel fantasy tones. As in the traditional application, this technique seeks to dye the hair gradually to achieve a completely new degradation that evolves the way of wearing color in the hair. It is essential that the dyeing be done by a professional.
Balayage highlights on long hair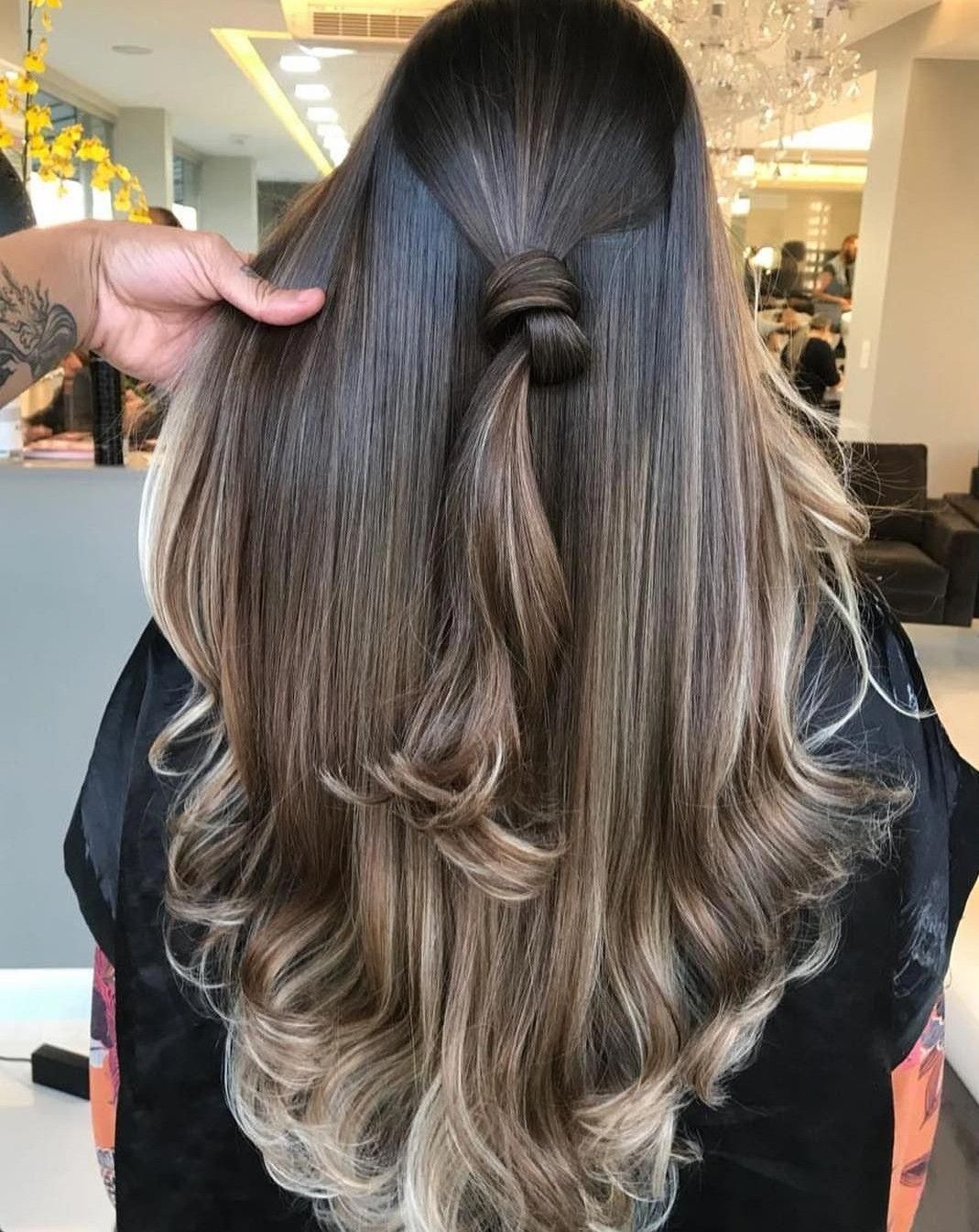 If you have long virgin hair that is very well cared for, this technique will be ideal, since it does not mistreat the hair because it is not necessary to bleach it to achieve a beautiful blurred effect.
When you wear a balayage on long hair, it is advisable to apply moisturizing, natural or commercial masks.
The idea is to use more often than usual, since you need your hair to maintain that bright touch as if you just left the salon. Once every 15 days could be a good start.
A recommendation for its care when you have long hair is to sleep with your hair attached to prevent it from breaking with the pulls you give it at night.
Plus, this will create loose curls that will look great on balayage ends.
Balayage highlights on short hair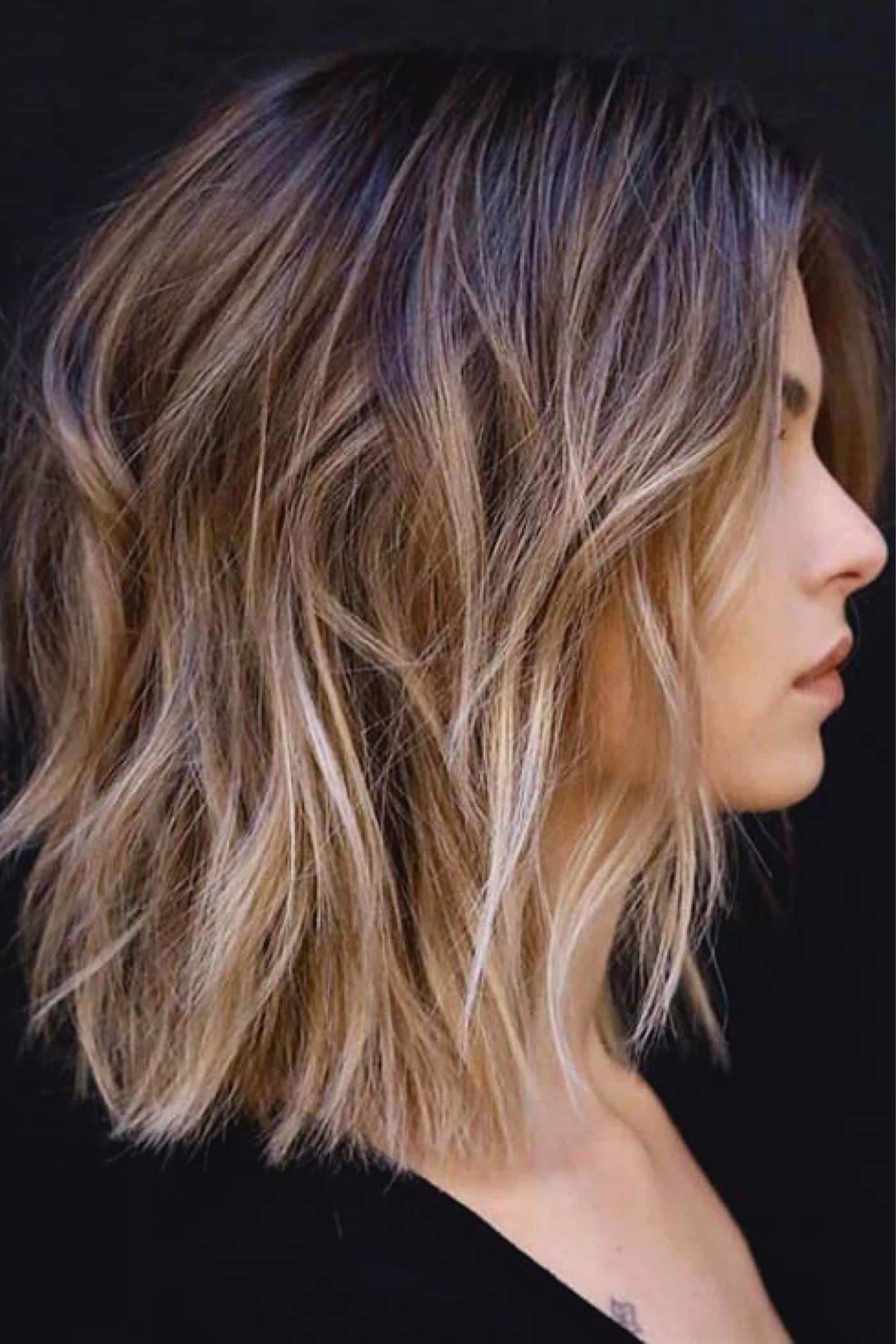 In short hair this technique looks very summery and casual, which creates a rejuvenating style.
It is especially suitable for mature women who want to achieve a youthful look and easy to wear every day.
When you have cuts like the Bob, the effect that is achieved is very dynamic, because by providing soft waves you will already appreciate a fairly luminous mane, which is one of the most outstanding characteristics of this look.
On the other hand, for pixie cuts the highlights can be concentrated on the crown with pronounced stitching or towards the bangs so that it completely steals the attention.
Plus, the bangs will also help you look younger.
Depending on the tone you choose to make your highlights, the sweep will also be effective to hide gray in short hair.
The fact that you won't need monthly touch-ups will also be flattering.
Balayage highlights on medium hair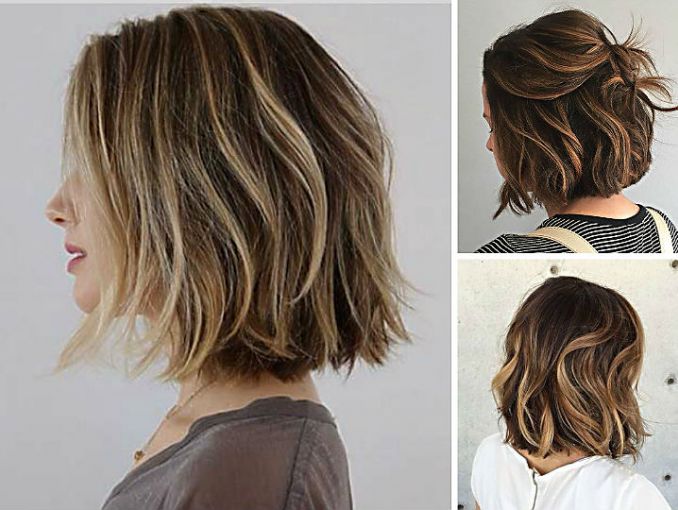 These highlights on medium hair will attract natural light and give them much more movement.
It will be very good that the lightest part of the hair is not only concentrated at the ends but also towards the face.
Do not be afraid to play with the colors, it is only a matter of choosing 2 or 3 shades between light and dark, and mixing them harmoniously so that they combine very well with the tone of your skin and that of your eyes. it goes great.
As for hairstyles, not only wearing your hair on the side looks good, you can wear medium hair with a casual look with a parting in the middle or with a curtain-type bangs.
You will even attract glances by pulling your entire hair back so that it falls like a kind of waterfall.
And low ponytails are also very successful, they give an elegant finish to medium hair with balayage.
The best thing is to wear the ponytail with waves and perhaps with a tupe to create much more volume and highlight the flashes of light.
Balayage highlights on curly hair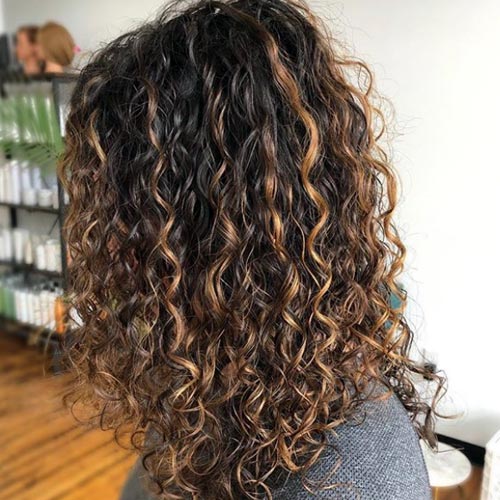 Since curly hair is in three dimensions, the effect that can be achieved with a balayage is from another world, it provides much more volume, attracts all the attention to the hair regardless of whether it is long or short and makes it look more cared for.
Since balayage hair looks brighter, the curls will give an appearance of greater definition and allow to play even better with the tones and the areas in which they will be applied, giving a very original effect to the final finish.
Unlike what is believed, curly hair is very versatile and with balayage you can wear pigtails, semi-collected hairstyles, braids or well disheveled and with scarves. The possibilities are endless.
For a touch of extra shine, you can define or separate your curls with a little oil of your choice. The flash of light that your hair will provide will leave everyone delighted.
Give your curls a touch of color and shine.
Now that you know the secrets of balayage, dare to give your hair an innovative and light-filled look.